Karen's Cookies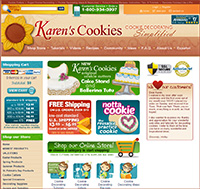 In 2007 my lovely wife Karen had the idea to start an online store selling cookie cutters and decorating supplies. She had been a professional decorator and had a popular presence online with some cookie decorating tutorials she maintained online. She wanted to start selling supplies as well.
With my experience creating web sites and e-commerce stores, I designed and developed Karen's Cookies with her. Over the years we have grown and successfully operated this business serving thousands of customers and shipping packages all over the world.
CookieCon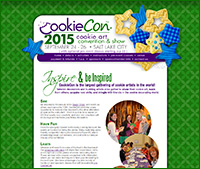 Karen and I have been a significant part of the Cookie Decorating industry and hobby. We created CookieCon back in 2012 and have since been organizing and running this amazing convention which attracts cookie artists from all over the country and world.
At each CookieCon event we host around 500 attendees, instructors, and vendors. Besides running the convention, I have created and designed the CookieCon web site along with associated promotional materials, newsletters, logos, etc.
---
Miscellaneous Web Sites
Occasionally I work on side projects. Here are just a handful of web sites I've created.
Royal Theaters

A web site I designed and created for a local movie theater.

Notta Cookie

An invention of mine, the Notta Cookie is a reusable practice cookie!

Gypsy Dawgs

I have an amazingly talented musician for a brother. This is a web site for one of his bands.
---
Graphic Design
As much as I enjoy coding, I also love working on design.  I have created a good number of logos, illustrations, business cards and other miscellaneous graphics over the years.  It's fun to process a design from a sketch on paper all the way to a colorful, visual statement.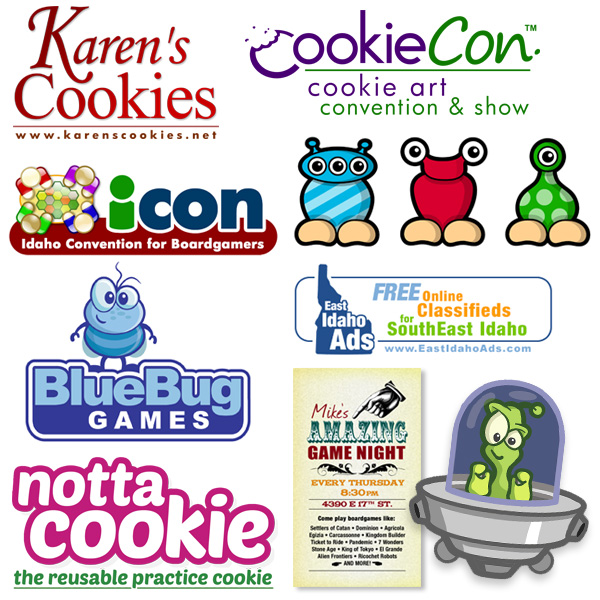 ---
Flash Game Development
I have notable experience in Flash development and ActionScript programming. Many of my projects were creating casual games. Some of these were created for different clients, and others were my own projects. At one point I had a side-business where I sold downloadable games for the PC that I had created and coded from the ground-up. This was back when people played more casual games on the PC. Of course, most casual games are played on smart phones these days!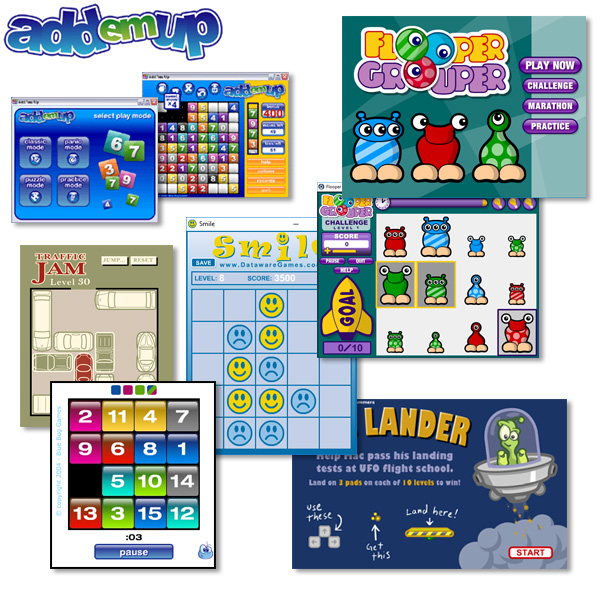 ---
Past Web Dev Experience
---
Step Up Sites
Step Up Sites served as the site for my freelance web design and development business I ran from 2005 – 2007. I have developed static informational sites, blogs, content management systems, and online stores for several small businesses. Many of those were designed and developed by myself from the ground up. I have also worked with popular scripts and software.

---
Via Training
When I started working with Via Training in Portland, Oregon in 2000 I was one of about 14 employees, serving a single client. The company grew to over 150 people working together to serve such clients as HP, Intel, Motorola, Canon, Microsoft, and others.

Below are a few examples of web sites I worked on as a Senior Web Developer at Via Training. I spent a number of years as a team member there developing sales-force training web applications for several companies.
---
The Pampered Chef: Online Training Center
Member-Accessible Training
The Pampered Chef Online Training Center provides consultants with engaging courses and references to help them develop and promote their personal businesses. The site focuses on interactive product training, soft skills, and provides incentive to complete courses with a sweepstakes program.

---
Comcast Training Center
This Comcast site provides training, sales tools, and more. It was developed for sales professionals who sell Comcast products and services. Here they find sales training, downloadable job aids, and other information about Comcast products and services to stay caught up here so they can get ahead while at work.
---
Best Buy
Internal Sales Training
I have put together several SCORM-compliant courses for Best Buy's internal training program. The skills learned in these courses range from soft skills, to equipment training, to new product specs and information.

---
HP InfoLab
I was actively involved in the development of HP InfoLab since just a few weeks after it's launch in 2000 to 2005. Having received multiple awards for its interactive learning courses, and incentives programs, the site had become one of the most widely known and used training sites for technology retail sales reps. Special attention was given to each course to assure that the user is learning not only about new product specs, but also effective selling techniques. I cannot even count the number of courses, email blasts, and other site updates I have been involved with through the years on this site.

---
HP SuppliesInfo
As a "sister-site" of HP InfoLab, SuppliesInfo focused on wholesalers, independent resellers, contract stationers, and major retailers of the after market sale of printing supplies such as paper, ink cartridges, toner, and storage media. The site had grown from offering only self-directed courses to including classroom training as part of it's program.

---
Intel Retail Edge Program
I was involved in the Intel Retail Edge Program since I built the initial site when the program started in 2002. This is also a popular site among retail sales reps with one of the best-known incentive programs. Users earned points as they read articles, took interactive courses, and attended live events. They could then spend those points on a yearly PC bundle that includes the latest processor and motherboard from Intel.

---
Microsoft Retail Online Training
Given it's expansive list of products, we have created dozens of courses for quite a variety of products for Microsoft. From mice and keyboard to tax software, from tablet PCs to video games, the Microsoft Retail Online Training site serves to ramp up sales reps on new or updated software and hardware technology.

---
Windows Mobile Training
This is another site I was able to help create from the ground up. It is interesting to see a site start out as a little prototype on your local computer, to a worldwide program, localized into several languages. This site focuses on providing training and news for Windows Mobile devices, including PDAs and mobile phones.